Hi ,
I have my situation where i want help to understand the problem
First let me explain my case. This could be a little long
These are the events registered in my database and showing on scheduler.
So what i need is… that if someone click any event it should gets duplicate with same date and time like in below screen shot.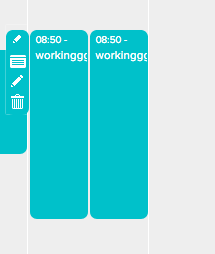 which is working fine it is getting duplicated and saved into database as a new entry…
with these details in console.



Now my problem is with dynamically added new Event in scheduler with some button and using addEvent() method which has no database record entry.

Like in above screen shot there is my first event with text ( WORKING ) and other are also there with no text.
So when i click any of them they should also work. But they aren't .
Instead of sending correct details it is getting random date and time automatically and in console what i noticed is that the SCHEDULER id is different in OnEventAdded function and while sending in request is different. . if you go little up and compare these console screen shot with first you will see the difference better.


in above first screen shot tells you my accurate data but in request this is going like empty… something is overriding it in this case where we are clicking dynamically created event after scheduler load.
How this is getting different i have no clue. can any one tell ?
This is how i'm duplicating the events:-
  scheduler.attachEvent("onClick", function(id, e)
{      
var ev=scheduler.getEvent(id);
var newtemp={
  start_date:ev.start_date,
  end_date:ev.end_date
  text:'working...'
};

scheduler.addEvent(newtemp);

return true;
                });

Regards