Hi folks,
We are having some difficulties with gantt. We want to demonstrate all the tasks for per user under per team. So far we have completed basic listing phase and showed the total efforts for per user. However, the efforts on tasks are not showing up. I feel like this is because of gantt.config.resource_property. Because the user and tasks are being grouped by different keys. If we use the key for users, the result is like this. However, task key and must be different from the users's key because of some technical difficulties.
Is it possible to update this property per row or something else? Or how should the data change that can serve for all the nodes. I am attaching a screenshot of our demonstration screen. The numbers I have added manually are what we are trying to achieve, yet no luck so far.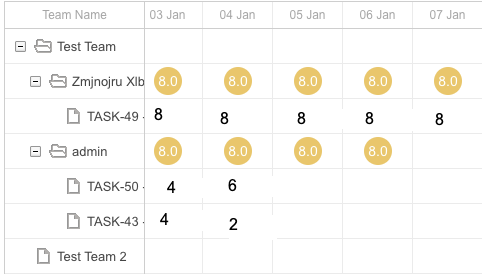 Any help appreciated.
Cheers,
Matt.