Hi,
I am using the mini calendar along with the scheduler. Once my page loads, if I switch around with the week, day, month views, things are fine. But when I try to click on a date on the mini cal, it generates wrong dates.
For eg: I am looking at the month view for this month i.e. Oct 2012


Then, I click on 18th Oct in the mini calendar. This is when I can see that the date in "onviewchange" is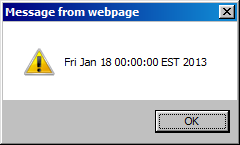 So now when the calendar is rendered, it now obviously goes to Jan 2013.