Hi there,
I just wrote the following code to check the appearance of Alert Message Box:
gantt.alert('Saved successfully.');
Then the result is like below.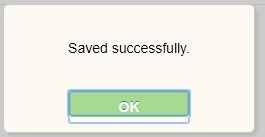 The blue outline means that the OK button has a focus on it, right?
However, the OK button seems to have got shrank…
How can I make the sizes of the OK button and focus out line the same each other so that they look good ?