when i use dhtmlxLayout and dhtmlxGrid
function loadBasicInfo(){
var basicInfoGrid;
basicInfoGrid = mainLayout.cells("a").attachGrid();
basicInfoGrid.setImagePath(path+"/js/dhtmlx/codebase/imgs/");
basicInfoGrid.setHeader("Column A,Column B,Column C");
basicInfoGrid.setInitWidths("120,,");
basicInfoGrid.setColAlign("left,left,left");
basicInfoGrid.setColTypes("dyn,ed,ed");
basicInfoGrid.setColSorting("str,str,str");
basicInfoGrid.init();
basicInfoGrid.setSkin("dhx_skyblue");
basicInfoGrid.loadXML(path+"/DhtmlxServlet?action=test1");
}
when i use this method,it can not show the normal data.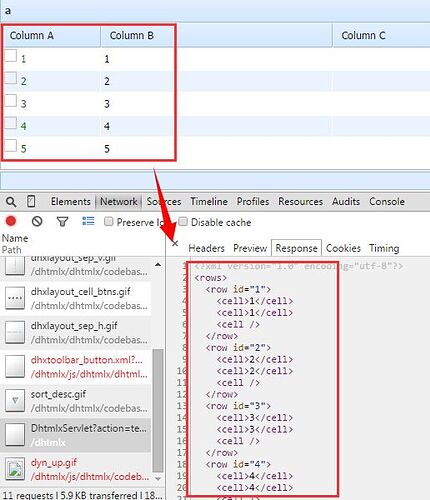 in this picture,the gird with checkbox or show the number 0 in grid cell,the first column.
i have no idea…
but the xml data from server is okay,you can see the pitcture
i have upload a java project.
the jsp is : complexIndex.jsp and complexIndex.js
can you help me find my mistake.