Hi I'd like to place a link tag in a form.
I want this link on the right of an image like in picture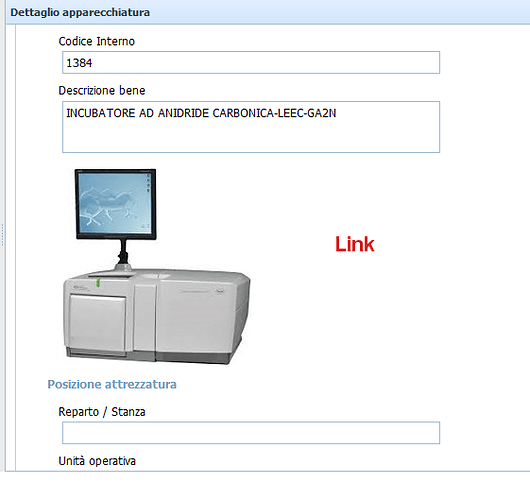 I thought I could place a New column after the image, but How can I do this with xml file ?
and after this two colum I would like to have only one column with the other items.
Any suggestion?
My xml file is this
<?xml version="1.0"?>
<items>
	<item type="settings"  inputWidth="400"  position="label-left" labelWidth="150"/>

	<item type="label"  label="Descrizione attrezzatura"/>
	<item type="input"  label="Codice Interno" name="codice_interno" offsetLeft="15"/>
	<item type="input"  label="Descrizione bene" name="descrizione_bene" rows="2" offsetLeft="15"/>

	<item type="container" name="foto" offsetLeft="15" offsetTop="15"/>

	<item type="label"  label="Posizione attrezzatura"/>
	<item type="input"  label="Reparto / Stanza" name="reparto_stanza" offsetLeft="15"/>
	<item type="input"  label="Unità operativa" name="unita_operativa" rows="2" offsetLeft="15"/>

	
	<item type="label"  label="Dati Costruttore"/>
	<item type="input"  label="Costruttore" name="costruttore" offsetLeft="15"/>

	
    <item type="button" value="Submit"  offsetTop="15" />
</items>