Hello Support,
We need to develop an Scheduler in an Angular application based on Screenshot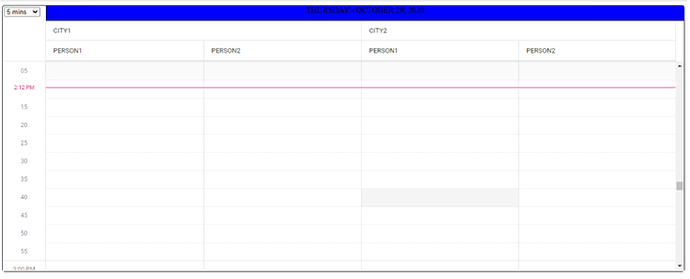 .
and need to show Demo. As of now, I am refering this link to create the Scheduler sample
Resources View Demo - dhtmlxScheduler
Once proper demo go well, we can have purchase. So, answer to below questions in-line. Please mention any sample reference or examples of the questions respectly.
Two-level Header : Do we have two-level headers as show in the screeshot. I.e City is the primary category and Person is the sub-category.

Performace Concern : Here user may add very huge appoinments, say around 2L appoinmnets. For this, do we need to consider any smart rendering?

Timer : We need to show timer(red-line shown in the screenshot) as per current time.
a) Do, we have the option to show that
b) Also, as current time increases, we need to shade upto line as shown in the screenshot
Regards,
Nanda