Hi to everyone!
We are preparing the new release of dhtmlxSpreadsheet. Now there is dhtmlxSpreadsheet 2.0 beta available so you can download it and try the new features:
Standalone Spreadsheet:
spreadsheet-v2.0.zip (494 KB)
WP plugin:
spreadsheet-v2.0-wordpress.zip (2.01 MB)
Joomla plugin:
spreadsheet-v2.0.1-joomla.zip (2.06 MB)
What's new in v.2.0 beta:
Cell validation - you can define the cell type as: number, email, positive, not empty. The spreadsheet will mark the cell if the entered value doesn't meet the requirements.
Lock/unlock feature allows you to lock the cells so they can't be edited.
Using database prefix (mostly for WordPress, Joomla) - you can create several spreadsheets from one database.
Improved ctrl+c/ctrl+v support, support for ctrl+x
Hotkeys support and keys navigation (support for Home, End, Page Up, Page Down, etc)
Undo operation - use the button on the toolbar to undo your last actions.
Copy selection
Support for absolute links in formulas (Excel-like functionality)
Improved copying (relative formulas and styles)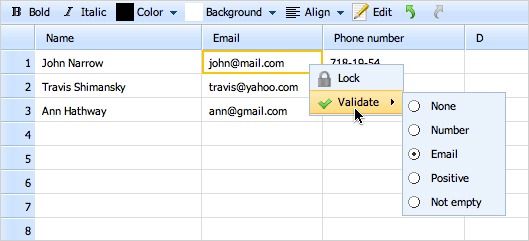 Feedbacks and bug reports are appriciated!